Agastya Agro was promoted by Mr.M. Murali in 1997 to manufacture and distribute quality agro inputs in state of Andhra Pradesh. On a very modest scale to formulate generic pesticides with totally 10-15 people were employed in all functions put together.
Agastya Agro Limited is one of the leading formulator / producer of generic crop protection products with a wide range of products that include fungicides, insecticides and herbicides.
The company's branded products are well recognised and have a reputation for quality. We have been supported by dealers and encouraged by farmers.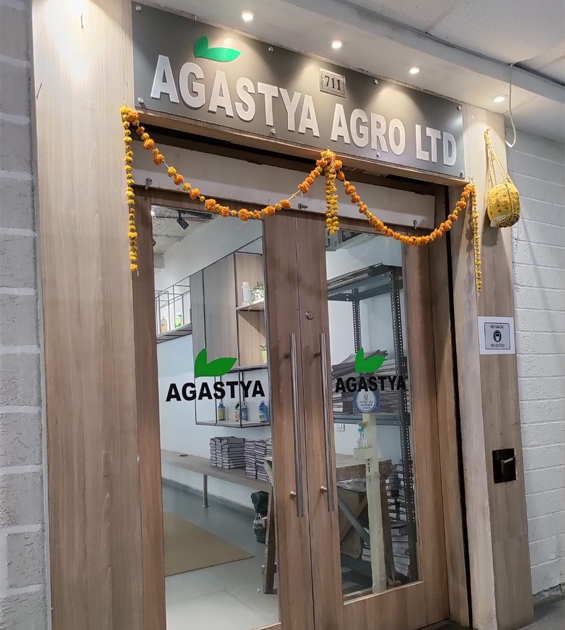 AGASTYA AGRO IS AS ISO 9001:2008 CERTIFIED COMPANY.
Agastya has a strong distribution network of dealers and offices selling branded agrochemicals, bulk pesticides in south Indian states like AP. Karnataka and Tamil-Nadu & North India, Maharastra, M.P and Chattishgarh.
The underlying philosophy of the company is to provide cost effective, quality solutions in crop protection for farmers. Agastya has been able to achieve this through managing change and making most of the opportunities that opened up with liberalisation and globalisation. A focus on our core competence, a vision of being a quick in service and a commitment to provide cost effective quality solutions in crop protection for farmers, have been the driving forces of the company.
Working closely with the customers in the market place, Agastya recognises the requirements for the highest level of support in product research, development and registration. The company has invested in a research team, which undertakes extensive field trials for developing innovative formulations. New products have been introduced in every year of the company's history, in response to the specific needs of the changing market. Agastya have climbed the steps of success slowly but steadily. Agastya never looked back and today it is the dream cherished.
We in Agastya Agro have developed a culture of hard work, sincerity, honesty and technical excellence, which has resulted into spectacular results. The company has progressed and recorded substantial growth in terms of infrastructure, organization and business volumes.
Most importantly, the company is wholly committed to maintaining and expanding its' portfolio of product registrations every year. Considerable investment has been focussed on the regulatory requirements for registration support. Agastya have been following ISI and CIB quality norms and specifications. For both chemicals and packaging materials.
These facts were recognized by other leading companies in the industry and today Agastya Agro Limited is rated as one of the best formulators of pesticides in India. Manufactures like Bayer India Ltd. have given us opportunity to market their product "PROPINEB". We have also strong associations with industries leading players like UPL, Crystal, Rallis India , Insecticide India Ltd. and are hopeful of more tie ups for marketing their research product in coming future.
The company has established a marketing and distribution network, comprising of more than 5000 dealers and 8 offices that works closely with the farmers. Agastya have more than 150 qualified and experience staff on our pay rolls managing efficiently all these activities independently. Agastya has the commitment and capability to offer total solutions from start to finish in the agriculture sector. We have our full automatic facilities which are capable of production of all types of formulations.

Our production units are located at Hyderabad, in Andhra Pradesh. Today state-of-the-art chemical engineering equipment and, totally automated microprocessor based technology in our unit has helped automize operations, improve quality control and achieve zero defects in our products.